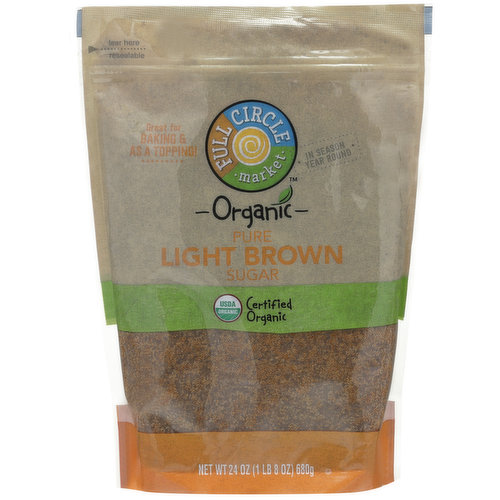 Full Circle Market Light Brown Pure Sugar, 24 Ounce
Sale Information
Sales price valid from 11/30/2023 until 12/7/2023
Description
CERTIFIED ORGANIC BY QUALITY ASSURANCE INTERNATIONALCOME VISIT US! FULLCIRCLEFOODS.COM IS YOUR DESTINATION FOR UNIQUE RECIPES, INTERESTING ARTICLES, PRODUCT OVERVIEWS AND MORE.STORAGE: RESEAL THE POUCH TIGHTLY AFTER EACH USE OR PLACE IN AN AIRTIGHT CONTAINER. IF SUGAR BECOMES HARD, PLACE IN A SUITABLE CONTAINER AND HEAT IN A 200°F OVEN FOR 20 MINUTES (ROTATE CONTAINER 1/2 TURN HALFWAY THROUGH HEATING TIME). AS SOON AS SUGAR IS SOFT, MEASURE THE AMOUNT NEEDED. IT WILL HARDEN AGAIN WHEN COOLED.OUR STORY - WE BELIEVE IN PAIRING THE SIMPLE GOODNESS OF NATURE WITH DELICIOUS, MARKET-INSPIRED FLAVORS AND DELIVERING THAT QUALITY TO YOUR NEIGHBORHOOD GROCER. WITH FULL CIRCLE MARKET, BETTER CHOICES AND AFFORDABLE PRICES ARE ALWAYS IN SEASON YEAR ROUND.QUALITY GUARANTEED - IF FOR ANY REASON YOU'RE NOT SATISFIED, WE'LL GIVE YOU A FULL REFUND.COPYRIGHT TOPCO WHA1116
Ingredients
ORGANIC BROWN SUGAR.
Product Number: 00036800134355
Sale Information
Sales price valid from 11/30/2023 until 12/7/2023
Description
CERTIFIED ORGANIC BY QUALITY ASSURANCE INTERNATIONALCOME VISIT US! FULLCIRCLEFOODS.COM IS YOUR DESTINATION FOR UNIQUE RECIPES, INTERESTING ARTICLES, PRODUCT OVERVIEWS AND MORE.STORAGE: RESEAL THE POUCH TIGHTLY AFTER EACH USE OR PLACE IN AN AIRTIGHT CONTAINER. IF SUGAR BECOMES HARD, PLACE IN A SUITABLE CONTAINER AND HEAT IN A 200°F OVEN FOR 20 MINUTES (ROTATE CONTAINER 1/2 TURN HALFWAY THROUGH HEATING TIME). AS SOON AS SUGAR IS SOFT, MEASURE THE AMOUNT NEEDED. IT WILL HARDEN AGAIN WHEN COOLED.OUR STORY - WE BELIEVE IN PAIRING THE SIMPLE GOODNESS OF NATURE WITH DELICIOUS, MARKET-INSPIRED FLAVORS AND DELIVERING THAT QUALITY TO YOUR NEIGHBORHOOD GROCER. WITH FULL CIRCLE MARKET, BETTER CHOICES AND AFFORDABLE PRICES ARE ALWAYS IN SEASON YEAR ROUND.QUALITY GUARANTEED - IF FOR ANY REASON YOU'RE NOT SATISFIED, WE'LL GIVE YOU A FULL REFUND.COPYRIGHT TOPCO WHA1116
Product Number: 00036800134355
Ingredients
ORGANIC BROWN SUGAR.
Product Number: 00036800134355